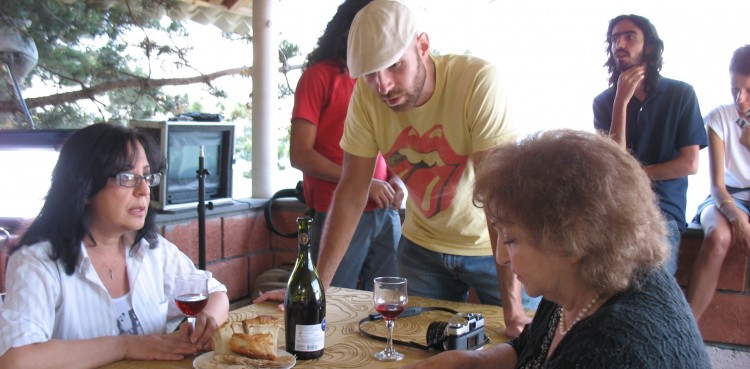 text by LILIT BARSEGYAN
With a heavy population of celebrities and filmmakers in Los Angeles, discovering an Armenian cinematographer on the east coast was rather refreshing. Embarking on a nostalgic endeavor last summer, Saro Varjabedian, a native New Yorker, decided to go location scouting on the other side of the globe to shoot his thesis film, After Water There is Sand. "The idea came to me after my grandpa passed away; feeling regretful and shocked, I learned how to get over that grief." And thus the 5,000 mile journey to Armenia began.
Saro is a freelance cinematographer whose diverse ethnic upbringing gave him the cultural approach that is seen in his work. Pursuing his masters at Columbia University, Saro decided to go back to school to learn how to write and direct. But uncertain about his future goals, Saro never even considered film as a career option until a few years into college when he found himself on a set. "My friend was in the film program and working on a feature. They were short-handed one day and asked me to come and help. I knew nothing about it, but caught on quick. Once I was on that set, I felt drawn to it- the equipment and playing with the toys."
Being inspired by his recent discovery, Saro changed his major to media studies and delved into his newfound passion. In addition to Armenia, Saro's work has given him the opportunity to travel to India, Lebanon and Mexico. Having his first film, La Chambre de Motel, screen at the 2008 New York Film Festival and the 2008 Wild Sound Film Festival, Saro's career began to emerge. Kosu, his second film, made its rounds through several more film festivals, including the 2011 Arpa International Film Festival. Due to his initial interest in the industry being cinematography, Saro developed an appreciation and knowledge for lighting and cameras when finishing his undergrad in New York. Taking it a step further, he decided to continue his education and acquire more skills. Remarkably, his thesis film became the reason he took his first trip to Armenia. Profoundly touched by the people and their hospitality, Saro shared stories of several individuals he came across as he traveled throughout the country. "What really left a mark for me was how amazing and welcoming the people were, especially in the villages. They felt the need to help me, feed me, and very quickly knew I was a foreigner. They felt the need to take me in -they said I'm a guest and were extremely nurturing. I've never experienced that in New York." Recalling my own trip to New York and villages in Armenia, I can't help but agree with him on that last point, but nonetheless, would never miss an opportunity to go to New York again. Although Hollywood is the ultimate destination for film enthusiasts, New York captures more of the indie scene, allowing filmmakers to display more creativity versus feeding mainstream demands. In fact, several major directors and producers are Columbia University alumni including Kathryn Bigelow (The Hurt Locker) and Lisa Cholodenko (The Kids Are All Right). And taking home an award this year from the 25th annual Columbia Film Festival, After Water There is Sand was the winner of the ASCAP/Film Scoring Workshop.
As mentioned earlier, one of Saro's inspirations for making the film was his grandfather. Saro's grandmother learned to cope with the loss of her husband by fulfilling one of his dreams- going to Alaska and taking pictures there. "My grandfather loved taking family pictures when we would go on vacation," which is exactly what his grandmother did; she grabbed her two daughters and headed to Alaska. This is originally how the idea for the story emerged. Combined with his desire to explore his own cultural identity, Saro centered the theme around Mount Ararat.
The film focuses on a woman named Tamar who is grief stricken by the death of her husband and has no interest in living life without him. Her husband always dreamt of taking a photo with his family at Mount Ararat and Tamar suddenly realizes that she must do this for him. Abruptly taking her two daughters with her, the three women find themselves facing many challenges trying to get around the country. With the aid of a female taxi driver, who has also lost her husband, the women are guided through their quest to reach Ararat as Tamar learns to let go of the pain and understands that there actually still is a life worth living. Feeling connected to her mother country, while bonding with a close-knit group of women, Tamar overcomes her anguish and distraught outlook on life.
After Water There is Sand personifies the essence of Saro's goals as a filmmaker: to "direct stories that I feel connected to and that are meaningful." And in conjunction with his love to travel, we can look forward to watching Saro's next features filmed in different parts of the world. But until then, another feature the young cinematographer currently has screening in film festivals is Elliot Loves, a gay romantic comedy playing at Frameline Film Festival in San Francisco and Outfest In Los Angeles next month. Elliot Loves was the winner of the Audience Choice Award at Miami Gay Film Festival.
To learn more about After Water There is Sand, please visit www.afterwaterthemovie.com.
source: YerevanMagazine.com