TORONTO, CANADA  (December 6, 2011) – The 6th Annual Pomegranate Film Festival [POM], held in Toronto, Canada, officially ended its sixth season on Sunday, December 4, 2011 with a big bang. POM VI celebrated an extremely successful four-day weekend (December 1-4), featuring a variety of 37 films from 14 different countries; including 8 world premieres that undeniably excited the minds of film lovers.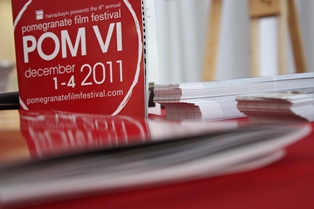 " This years POM Festival completely surpassed all expectations!" said Jacob Porpossian, Director of Communications and Marketing for POM. "Our variety of films, which were carefully selected for our programming, attracted over 2000 viewers throughout the weekend; including one of the most successful Gala nights in the festival's history."
The festival concluded with a sold out screening of the comedy MY UNCLE RAFAEL directed by Marc Fusco and starring the humorous Vahik Pirhamzei, followed by the 2011 POM Awards Ceremony.  Jury members Silva Basmadjian, Executive Producer of the National Film Board of Canada; renowned actress Arsinée Khanjian; and acclaimed cinematographer Norayr Kaspar had the tough job of selecting our 2011 award- winning films in their respective categories. The film KING OF THE WORLD, directed by Stéphane Kazandjian, was awarded Best Feature Film. Best Short Film was awarded to Swedish director Emil Mkrttchian for his delightful film THE SPACESHIP and Husein Karabey's powerful NO DARKNESS WILL MAKE US FORGET. Best Documentary went to the well-deserved personal journeys : The SON OF THE OLIVE MERCHANT directed by Matthieu Zeitindjioglou and VOYAGE TO AMASIA co-directed by Eric Hachikian and Randy Bell. The coveted Audience Choice Award went to director Braden King for his poetic film HERE. Other featured films such as  Eric Nazarian's BOLIS, , French master Robert Guediguian's THE SNOWS OF KILIMANJARO , Barry Levinson's YOU DON'T KNOW JACK and our Gala film, Vahan Stepanyan's  and Artak Igityan's co-directed masterpiece, SUNRISE OVER LAKE VAN certainly created lots of discussion throughout the weekend and didn't disappoint.
"With over two hundred films submitted, it was a hard process selecting thirty-seven amazing films for our program this year." said Jacob. " I can only imagine how hard it was for our jury members to select the winning films"
With the 6th season came the birth of a few new series to POM. This year, the festival added two special programs: a memorable series called Armenia Now, dedicated to featuring a vibrant collection of films commemorating the twenty years of Armenian independence with all proceeds being donated to the All- Armenia Fund, as well as the Spotlight on Armenian Women which screened   the much talked about MY GRANDMA'S TATTOO directed by Suzanne Khardalian– a highly educational female perspective on the Armenian Genocide.
" Our introduction of the new series films allowed the festival to grow and appeal to a variety of different people. We are always looking to expand and have already begun preparations for next year's festival," said Jacob. " We want to make the Pomegranate Film Festival become the leading Armenian film festival in Canada and North Eastern USA and hopefully one day the diaspora!"
For more information on the Pomegranate Film Festival, please visit www.pomegranatefilmfestival.com . Become a part of the POM community online by joining our Facebook Page www.Facebook.com/POMFILMFEST and by following our Twitter account www.twitter.com/POMFILMFEST .